I have reasons for the silence, but not good ones. My writing here should be in synergy with everything else I'm doing. Regardless, I've been: 1. Writing a television show. And what comes with that is convincing sweet yet very big bad heavy guns in the city of angels that they must attach themselves to something that's never been seen before. And 2. Been living on the edge of launching a word.sound.power playful endeavor in this vibrant nation of cyberation. Stay tuned for launch locale and I'm really hoping you'll wanna make some word alchemy with me.
While I've been working non-stop, this holy trinity has been playing over and over again in my head and I figured it was something I should share. Or at least I figured I better share something.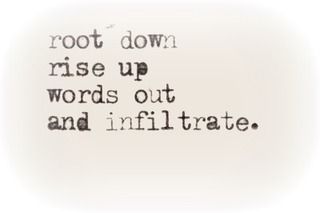 Infiltrate. Go straight into places you previously thought you did not belong. Cross the Do Not Enter Sign with a wide ass smile and your sexiest strut, dreadlocks, quartz crystals, open heart and paradigm shifting ideas. Rock your spiritual gangsta: do not go undercover. Bring exactly who you are to the table (perhaps it's the opposite of whatever these places have ever seen before and it's exactly what they crave). Don't attempt to create a person you think they are looking for. Don't create a product that you think they need.
Instead, infiltrate every over-dusted corner of ever over-rated system with the pureness of your creation, with the absoluteness of You. Do not try to strategize or plan a way to be seen or heard just because everyone else before you has gotten what they wanted by this method. They may have gotten what they wanted but lost who they were. Infiltrate fears and insecurities with that fire, with the reason you came to this earth and shift that place inside out. You will not believe how welcomed you will be when you roll straight up as you are and create irresistible stories from those roots.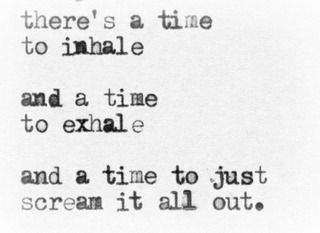 Just can't push this shit. Things take time. You can't authentically press your forehead to your shins after a day of yoga practice. Sometimes forward bends take up to a decade. You learn to exhale like a mastress and wait until your spines are ironed out by the subtle force of air + patience. You can't push a baby out of the body before it's ready to come. When you try, it hurts, it feels counterintuitive and your flesh just rips and tears. Sometimes that baby just won't budge under pressure and you are working like a horse for nothing. And if the baby is born from force, you don't get to experience that amazing quiescence, the space at the Station of the Source, the happening right before your body decides to do the work minus the mind. Don't push your magic before the journey is done and at the same time: you can't sit around with a baby in your vagina forever. Eventually–scary as it may be— you have to tell yourself to give birth.
Always choose your art first. Don't forget your voice while crunching the numbers and scheming marketing plans. I went around for months looking at successful models of the writing business I thought I should be creating, scrambling desperately to keep me + money in the same moment. I'd come up with several of my own versions of what other people had been putting out there, tried to create a Brand around me and then obsessed about a plan to sell it. Well, I say brands are for jeans and really nice evening gowns. Instead the writer, the life capturer, the inspirationalist who just wants to be heard and to serve their community must tell the continuously evolving, wild and crazy, ordinary, messy, perfect story. That is the ever-living brand of your soul, of your path. That is The You that everyone wants a piece of. Stop wondering how to present yourself and spend time with the flame-on and fire spinning. Get the rhythm going hot and steady. Write your story every single day and find that golden strand that is always there. That will be the essence to share, but first, write it out, or dance that shit out naked on the beach at night under a red moon and wait to see what words rise from the surface of those waves. That essence is the seed. Plant it by taking the risk of sharing it. Personal luminosity and fearless brilliance is the brand. A willingness to turn inside out and share what works, what doesn't and what turns your hot self on. This action is the catalyst for alchemy. Alchemy is what transforms us from what we think about becoming into simply Becoming.